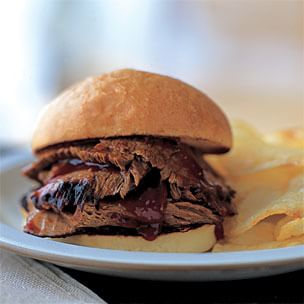 BBQ Brisket Sandwiches
You will find many good-quality commercial barbecue sauces on the market today. If you prefer a less saucy sandwich, instead of immersing the meat in the sauce when warming it, pour the sauce into a small bowl and use a basting brush to smear it on the meat.
Ingredients:
1/2 cup barbecue sauce

2 cups sliced or shredded braised brisket


4 crusty sandwich rolls, sliced in half
Directions:
Warm the brisket
In a fry pan over medium heat, warm the barbecue sauce. Add the brisket and turn in the sauce until heated through.

Assemble the sandwiches
Lightly toast the rolls. Place the roll bottoms, cut side up, on individual plates and divide the brisket among them, moistening the meat on each sandwich with some of the sauce. Close the sandwiches with the tops and serve immediately. Serves 4.

Adapted from Williams-Sonoma Food Made Fast Series, Weeknight, by Melanie Barnard (Oxmoor House, 2006).