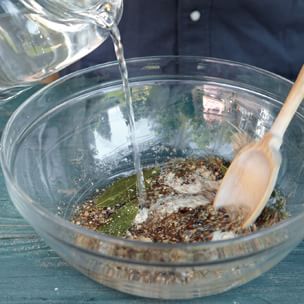 Basic Poultry Brine
Soaking chicken in a seasoned saltwater brine ensures the bird will emerge flavorful and, most importantly, moist. Consequently, the timing is a little less fussy when you're cooking: it's no big deal if you leave the chicken on the grill or in the oven a few minutes too long. After placing the poultry in the brine, refrigerate until ready to cook.
Ingredients:
8 cups water

5 Tbs. kosher salt

2 Tbs. dried basil

2 Tbs. coriander seeds

1 Tbs. peppercorns

1 Tbs. yellow mustard seeds

1 tsp. granulated garlic

2 bay leaves
Directions:
In a large bowl, combine the water, salt, basil, coriander, peppercorns, mustard seeds, granulated garlic and bay leaves and stir until the salt dissolves. Use immediately. Makes about 8 cups, or enough for 1 chicken.

Adapted from Williams-Sonoma Grill Master, by Fred Thompson (Weldon Owen, 2011).