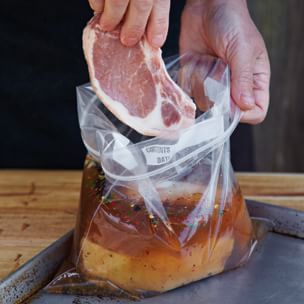 Basic Pork Brine
Brining pork chops, even for a short time, provides a little wiggle room on doneness. If you cook the meat for a minute or so too long, the brine will help keep the pork moist. After placing the pork in the brine, refrigerate until ready to cook.
Ingredients:
6 cups water

1/4 cup cider vinegar

1/4 cup firmly packed brown sugar

1 tsp. dried thyme

1 tsp. juniper berries (optional)

1/8 tsp. red pepper flakes

2 Tbs. kosher salt

1 Tbs. freshly ground black pepper
Directions:
In a large bowl, combine the water, vinegar, sugar, thyme, juniper berries, red pepper flakes, salt and black pepper, and stir until the sugar and salt dissolve. Use immediately. Makes about 6 1/2 cups, or enough for 4 to 6 pork chops.

Adapted from Williams-Sonoma Grill Master, by Fred Thompson (Weldon Owen, 2011).