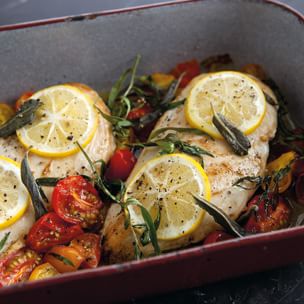 Baked Chicken with Cherry Tomatoes, Herbs and Lemon
Here's a low-fat, low-fuss way to enjoy tender chicken breasts. Baking the chicken takes longer than sautéing or poaching, but it produces more flavorful meat. Cherry tomatoes become even sweeter as they bake, making them a tasty accompaniment to the chicken breasts that cook alongside. If desired, you can omit the tarragon and sage, and top the finished dish with fresh basil and parsley leaves lightly drizzled with olive oil.

Ingredients:
6 1/2 tsp. olive oil

4 boneless, skinless chicken breast halves, each about 5 oz.


8 oz. cherry or grape tomatoes, halved

1 1/2 tsp. balsamic vinegar

1/2 tsp. sea salt

Freshly ground pepper, to taste

1 lemon, cut into 8 thin slices

6 to 8 fresh tarragon sprigs

8 to 10 fresh sage leaves

Directions:
Preheat an oven to 375°F. Lightly grease a baking dish with 2 tsp. of the olive oil.


Place the chicken breasts in the prepared baking dish. Arrange the tomatoes around the chicken. Drizzle the chicken and tomatoes with the vinegar and 2 1/2 tsp. of the olive oil. Sprinkle with the salt and pepper.


Top each chicken breast with 2 lemon slices. Arrange the tarragon sprigs and sage leaves over and around the chicken. Drizzle the remaining 2 tsp. olive oil over the herbs.


Bake until the chicken is opaque throughout, 25 to 30 minutes. Arrange a chicken breast on each of 4 plates, spooning equal amounts of the tomatoes and herbs around each. Drizzle with some pan juices and serve immediately. Serves 4.

Adapted from Williams-Sonoma Healthy in a Hurry, by Karen Ansel, MS, RD and Charity Ferreira (Weldon Owen, 2011).