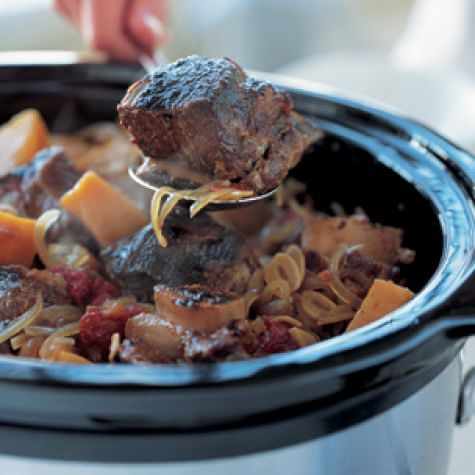 Ale-Braised Short Ribs
Here, beef short ribs and chunks of butternut squash are slowly simmered with ale and diced tomatoes to create a warming winter dish.
Ingredients:
4 to 5 lb. bone-in beef short ribs, cut into 3-inch pieces

Salt and freshly ground pepper, to taste

2 yellow onions, thinly sliced

3 garlic cloves, sliced

1 butternut squash, about 2 lb. total, peeled and cut into chunks

1 can (14 1/2 oz.) diced plum tomatoes, with juice

1 bottle (12 fl. oz.) ale or dark beer

3 Tbs. all-purpose flour

1/4 cup water
Directions:
Brown the short ribs
Preheat a broiler. Generously season the ribs on all sides with salt and pepper. Working in batches if necessary, arrange the ribs on a broiler pan and place under the broiler. Broil the ribs, turning once, until well browned, about 3 minutes per side. Transfer the ribs to a slow cooker.

Cook the short ribs
Scatter the onions and garlic over the ribs. Add the squash. Pour in the tomatoes with their juice along with the ale. Cover and cook according to the manufacturer's instructions until the meat is separating from the bones and the squash is tender, 5 to 6 hours on high or 7 to 8 hours on low.

Thicken the sauce
Using a slotted spoon, transfer the ribs and squash to a shallow bowl or platter and cover loosely with aluminum foil. Skim the excess fat off the sauce. Put the slow cooker on the high-heat setting. In a small bowl, whisk together the flour and water. Whisk the flour mixture into the sauce and cook, uncovered and stirring occasionally, until the sauce is slightly thickened, about 15 minutes. Season with salt and pepper. Spoon the sauce over the ribs and squash and serve immediately. Serves 6.

Adapted from Williams-Sonoma Food Made Fast Series, Slow Cooker, by Norman Kolpas (Oxmoor House, 2007).