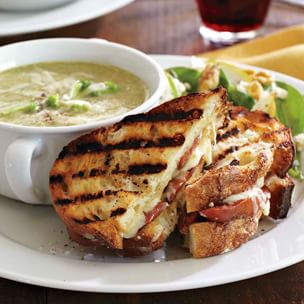 Ingredients:
2 Tbs. olive oil

1/2 yellow onion, cut into 1/2-inch dice

1 garlic clove, finely chopped

Kosher salt, to taste

1 lb. broccoli, cut into 1-inch florets

3 cups chicken or vegetable stock

Freshly ground black pepper, to taste

1/2 cup spinach leaves

1 Tbs. light beer


6 oz. white cheddar cheese, grated

2 Tbs. finely grated Parmigiano- Reggiano cheese,
plus more for garnish

2 pinches of cayenne pepper
Directions:
In a Cuisinart soup maker and blender over medium heat, warm the olive oil for about 5 minutes. Add the onion, garlic and a few pinches of salt. Cook, using the stir function occasionally, until the onion is aromatic and tender, 8 to 10 minutes.

Increase the heat to high. Add the broccoli, stock, a few pinches of salt and black pepper and bring to a simmer. Continue to cook, using the stir function occasionally, until the broccoli is tender, about 10 minutes. Remove about 1 cup broccoli from the top of the blender and let cool.

Add the spinach, beer, cheddar, the 2 Tbs. Parmigiano-Reggiano and the cayenne to the blender. Using a towel, hold the lid down and blend on the highest setting until the soup is pureed.

Cut the reserved broccoli into 1/2-inch pieces. Pour the soup into warmed bowls and garnish with Parmigiano-Reggiano and the broccoli pieces. Serve immediately. Serves 4.

Williams-Sonoma Kitchen.