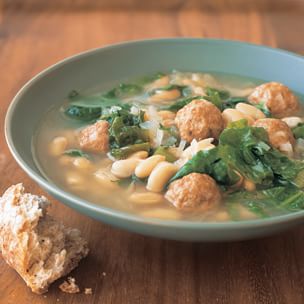 White Bean and Escarole Soup with Turkey Meatballs
Ground turkey is often a combination of white and dark meat. For this soup, ask the butcher for only the dark meat. It is a little higher in fat, but turkey is relatively lean compared to other poultry and meat, and the dark meat is more flavorful and higher in iron. Serve this soup with a loaf of warm, crusty artisan bread.
Ingredients:
1 lb. ground turkey

1 egg

1/4 cup grated Parmigiano-Reggiano cheese, plus shavings for garnish

2 Tbs. dried bread crumbs

1/4 tsp. salt

1/8 tsp. freshly ground pepper

2 cans (each 14 1/2 oz.) white beans

1 head escarole

2 Tbs. olive oil

1 yellow onion, finely chopped

2 garlic cloves, minced

1/4 tsp. dried thyme

1/2 cup dry white wine

4 cups chicken broth
Directions:
Line a baking sheet with aluminum foil or parchment paper. In a large bowl, combine the turkey, egg, grated cheese, bread crumbs, salt and pepper and mix until well blended. Shape into 1-inch meatballs and arrange about 1/2 inch apart on the prepared baking sheet. Refrigerate for 30 minutes.

Preheat an oven to 375°F.

Transfer the baking sheet to the oven and bake the meatballs until firm to the touch and no longer pink in the center, 16 to 20 minutes.

Meanwhile, drain and rinse the white beans. Tear the escarole leaves into bite-size pieces and set aside.

In a large pot over medium-high heat, warm the olive oil. Add the onion and sauté until softened, about 5 minutes. Add the garlic and thyme and cook, stirring frequently, until fragrant but not browned, 1 to 2 minutes more. Add the wine and boil until mostly evaporated, 2 to 3 minutes.

Add the broth and bring to a simmer. Add the beans and escarole and cook until the escarole is wilted, 5 to 7 minutes. Add the meatballs and cook until heated through, 1 to 2 minutes.

Ladle the soup into warmed bowls and garnish with cheese shavings. Serve immediately. Serves 4.

Adapted from Williams-Sonoma Eat Well, by Charity Ferreira (Oxmoor House, 2008).