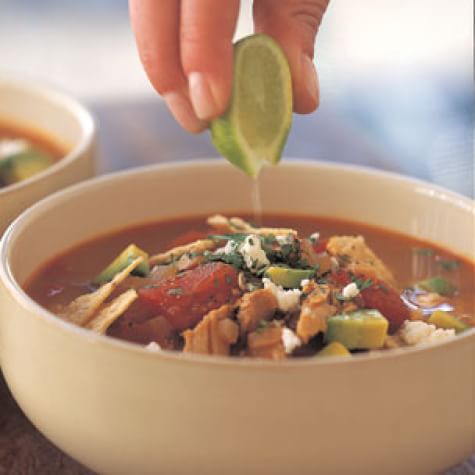 Tortilla Soup with Pork
You can also garnish this flavorful soup with a dollop of sour cream, tomatillo salsa or a spoonful of black beans. Instead of queso fresco, use shredded Monterey jack cheese. For a complete meal, accompany the soup with a chopped romaine lettuce salad with a chili-lime vinaigrette.
Ingredients:
2 Tbs. corn oil

1 small red onion, chopped

2 large garlic cloves, minced

1 Tbs. finely chopped chipotle chilies in adobo

6 cups chicken broth

1 can (14 1/2 oz.) diced tomatoes with juices

1 1/2 cups shredded roast pork

4 Tbs. chopped fresh cilantro

1/2 cup crumbled queso fresco
1 small avocado, halved, pitted, peeled and
finely diced

1 cup broken tortilla chips

1 lime, cut into wedges
Directions:
Make the soup base
In a large saucepan over medium heat, warm the oil. Add the onion and garlic and sauté until the onion is softened, 4 to 5 minutes. Stir in the chili, broth and tomatoes, then stir in the pork. Increase the heat to medium-high and bring to a simmer. Reduce the heat to medium-low, cover partially and simmer for 10 minutes to blend the flavors.

Finish the soup
Stir 2 Tbs. of the cilantro into the soup. Ladle into bowls and sprinkle with the remaining 2 Tbs. cilantro and the cheese, avocado and tortilla chips. Accompany with the lime wedges. Serves 4.

Adapted from Williams-Sonoma Food Made Fast Series, Simple Suppers, by Melanie Barnard (Oxmoor House, 2007).