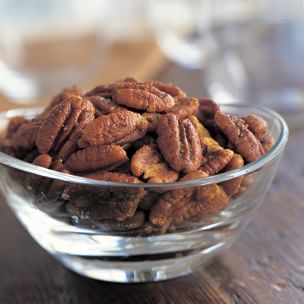 Spiced Roasted Nuts
Once completely cool, the nuts may be stored in an airtight container or a plastic freezer bag at room temperature for up to 2 days. Or, refrigerate them for up to 2 weeks. Bring the nuts to room temperature before serving.
Ingredients:
4 Tbs. (1/2 stick) unsalted butter

1 Tbs. curry powder

2 tsp. salt

1/2 tsp. ground cinnamon

1/2 tsp. ground cumin

1 tsp. cayenne pepper

1 Tbs. firmly packed brown sugar

1 lb. pecans or mixed nuts
Directions:
Prepare the seasonings
Preheat an oven to 350°F. Line a rimmed baking sheet with aluminum foil.

In a large saucepan over medium heat, combine the butter, curry, salt, cinnamon, cumin, cayenne and brown sugar. Cook, stirring occasionally, just until the butter is melted and the flavors are released, 2 to 3 minutes.

Roast the nuts
Using a spatula, add the nuts to the spice mixture and toss until evenly coated. Spread the nuts in a single layer on the prepared baking sheet. Bake until deep golden brown, about 15 minutes. Slide the foil and nuts onto a wire rack and let cool completely before serving. Makes about 4 cups.

Adapted from Williams-Sonoma Food Made Fast Series, Small Plates, by Brigit L. Binns (Oxmoor House, 2007).