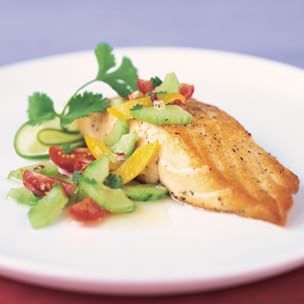 Seared Salmon with Cilantro-Cucumber Salsa
Here, a summertime salsa contributes color, flavor and texture to basic pan-seared salmon. You can make the salsa several hours in advance and refrigerate it until you are ready to serve.
Ingredients:
1/2 cucumber, peeled, halved lengthwise,
&nbsp seeded, halved lengthwise again and thinly
&nbsp sliced crosswise

1 cup cherry tomatoes, quartered

1/2 yellow or orange bell pepper, seeded and
&nbsp cut into 1-inch julienne

2 Tbs. chopped shallot or red onion

1 Tbs. chopped fresh cilantro, plus sprigs for
&nbsp garnish

1 Tbs. fresh lime juice

1 1/2 tsp. canola oil

1 tsp. honey

1/2 tsp. red pepper flakes

1 tsp. salt

4 salmon fillets, each 5 oz. and about 1 inch
&nbsp thick

1/4 tsp. freshly ground black pepper

Lime wedges for garnish
Directions:
In a bowl, combine the cucumber, tomatoes, bell pepper, shallot and chopped cilantro and toss gently to mix. In a small bowl, whisk together the lime juice, 1 tsp. of the canola oil, the honey, red pepper flakes and 1/2 tsp. of the salt. Pour the lime juice mixture over the cucumber mixture and toss gently to mix and coat evenly. Set aside.

Sprinkle the salmon fillets on both sides with the remaining 1/2 tsp. salt and the black pepper. In a large, nonstick fry pan over medium-high heat, warm the remaining 1/2 tsp. canola oil. Add the fish and cook, turning once, until opaque throughout when tested with the tip of a knife, 4 to 5 minutes per side.

Transfer the salmon fillets to warmed individual plates and top each with one-fourth of the salsa. Garnish the plates with the cilantro sprigs and lime wedges. Serve immediately.
Serves 4.