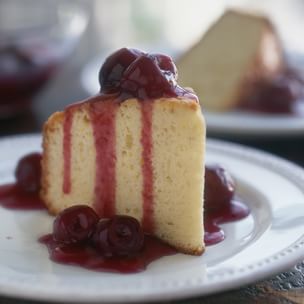 Olive Oil Cake with Cherry Compote
In this recipe, olive oil imparts richness and moisture to a simple sponge cake. The flavor of the oil is subtle and slightly fruity, and your guests may never guess your secret ingredient. The ruby red cherry compote delivers a wonderful splash of color and sweet-tart flavor.
Ingredients:
For the compote:
1/2 cup sugar

1/2 cup plus 2 Tbs. water

1 lb. fresh or thawed frozen cherries, pitted

1 lemon zest strip

2 tsp. cornstarch
For the cake:
Vegetable cooking spray for greasing the pan

1 1/2 cups cake flour

1 1/2 tsp. baking powder

1/2 tsp. salt

3 eggs, at room temperature

1 cup sugar

1/3 cup olive oil

1 tsp. vanilla extract

2 Tbs. fresh lemon juice

1 tsp. grated lemon zest
Directions:
To make the compote, in a saucepan over medium heat, combine the sugar and the 1/2 cup water. Bring to a simmer and cook, stirring, until the sugar is dissolved, about 3 minutes. Add the cherries and lemon zest strip, bring the liquid back to a simmer, and cook until the cherries are tender but still firm, about 2 minutes.

In a small bowl or cup, stir together the 2 Tbs. water and the cornstarch until the cornstarch is dissolved. Stir the cornstarch mixture into the simmering cherries and cook, stirring gently, until the liquid is clear and slightly thickened, about 1 minute. Transfer the compote to a bowl, remove and discard the lemon zest strip and let the compote cool to room temperature.

Position a rack in the middle of an oven and preheat to 350°F. Lightly grease a 9-inch springform pan.

To make the cake, in a bowl, sift together the flour, baking powder and salt.

In a large bowl, using an electric mixer on medium speed, beat the eggs until thick and pale yellow, about 3 minutes. While continuing to beat, slowly add the sugar in a thin, steady stream until fully combined. Then add the oil in a thin, steady stream, continuing to beat constantly. Beat in the vanilla, lemon juice and grated zest.

Using a rubber spatula, gently fold the flour mixture into the egg mixture in 3 batches. Do not overmix. Scrape the batter into the prepared pan.

Bake the cake until it is golden brown and springs back when pressed in the center, 35 to 40 minutes. Remove from the oven, place the pan on a wire rack and let cool for about 10 minutes. Run a small knife around the inside edge of the pan to loosen the cake, then release and remove the pan sides. Transfer the cake to a serving plate. Accompany each slice with some of the compote. Makes one 9-inch cake.

Adapted from Williams-Sonoma Essentials of Italian by Michele Scicolone (Oxmoor House, 2007).