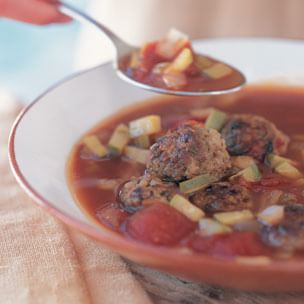 Mexican Meatball Soup
You can prepare the meatballs in advance and freeze them in an airtight container for up to 3 months. To use, defrost in the refrigerator overnight. Add to the soup as directed below.
Ingredients:
2 zucchini, coarsely chopped

3 celery stalks, coarsely chopped

2 1/2 cups beef stock

1 can (14 1/2 oz.) whole plum tomatoes,
coarsely chopped, with juices

2 Tbs. tomato paste

1 yellow onion, chopped

4 1/2 tsp. minced fresh oregano

1 tsp. chili powder

Salt, to taste, plus 1 1/2 tsp.

1 lb. ground beef

1 egg, lightly beaten

1/4 cup fresh bread crumbs

1 tsp. freshly ground pepper
Directions:
Make the soup base
In a large saucepan over medium heat, combine the zucchini, celery, stock, tomatoes and their juices, tomato paste, all but 2 Tbs. of the onion, 1/2 tsp. of the oregano, the chili powder and 1 cup water. Bring to a boil, reduce the heat to low and simmer, uncovered, until the vegetables are soft and the flavors are blended, about 30 minutes. Season with salt.

Prepare the meatballs
Meanwhile, in a bowl, combine the ground beef, egg, bread crumbs, the remaining 2 Tbs. onion, the remaining 4 tsp. oregano, the 1 1/2 tsp. salt and the pepper. Mix gently with your hands, then shape into balls about 1 inch in diameter. Set aside.

Finish the soup
When the soup base is ready, using a large spoon, gently slide the meatballs into the simmering stock. Cook until opaque throughout, 7 to 9 minutes. Ladle the soup into soup bowls and serve. Serves 4.

Adapted from Williams-Sonoma Food Made Fast Series, Soup, by Georgeanne Brennan (Oxmoor House, 2006).