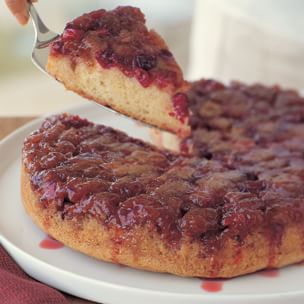 Easy Cranberry Upside-Down Cake
Lining the baking pan prevents the cranberries and glaze from sticking to the pan. Fold a piece of parchment paper larger than the pan into quarters, position the point of the folded paper in the center of the pan, and press the paper into the pan so that it creases where the bottom meets the sides. Cut the paper along the crease, unfold and press into the bottom of the pan.
Ingredients:
4 Tbs. (1/2 stick) unsalted butter, plus more for pan

3/4 cup firmly packed light brown sugar

2 cups fresh or thawed frozen cranberries

1 1/4 cups all-purpose flour

1/2 tsp. baking powder

1/4 tsp. baking soda

1/4 tsp. salt

1 egg

1 cup granulated sugar

1/2 cup canola oil

1 tsp. vanilla extract

1/2 cup sour cream
Directions:
Prepare the glaze
Preheat an oven to 350°F. Butter a 9-inch round cake pan. Line the bottom of the pan with parchment paper and butter the paper.

In a saucepan over medium-low heat, combine the butter and brown sugar and heat, stirring, until melted and smooth. Scrape the glaze into the prepared pan, tilting the pan to spread it evenly. Arrange the cranberries evenly over the glaze.

Make the batter
Sift together the flour, baking powder, baking soda and salt into a bowl.

In a large bowl, using an electric mixer on medium speed, beat together the egg and granulated sugar until fluffy and lightened in color, about 2 minutes. Reduce the speed to low, slowly add the oil and vanilla and beat until blended. Beat in the sour cream just until no white streaks remain, then beat in the flour mixture until incorporated. Carefully pour the batter over the cranberries, spreading it evenly with a rubber spatula.

Bake the cake
Bake until a toothpick inserted into the center of the cake comes out clean, about 45 minutes. Transfer the pan to a wire rack and let cool for 10 minutes.

Run a thin-bladed knife around the edge of the pan, invert a serving plate on the pan, and invert both the plate and pan together. Lift off the pan, being careful not to burn yourself, and carefully peel off the parchment paper. Cut the cake into wedges and serve warm or at room temperature. Serves 8.

Adapted from Williams-Sonoma Food Made Fast Series, Desserts, by Elinor Klivans (Oxmoor House, 2007).