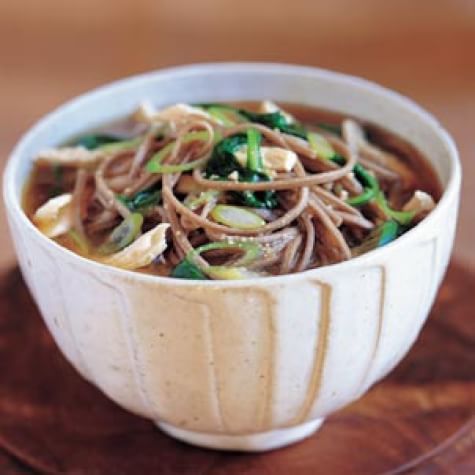 Chicken and Soba Noodle Soup
Thin, brownish gray soba noodles, made from buckwheat, are enormously popular in Japan, where they are prepared year-round. There, on hot summer days, the noodles are eaten cold, arranged on a bamboo lattice rack with dipping sauce, while on chilly winter days, the noodles are immersed in piping-hot broth. Soba noodles are available fresh and dried in Japanese markets; the dried variety may also be found in the ethnic aisle of well-stocked supermarkets. Look for yellow miso paste in the same places.
Ingredients:
1⁄2 lb. dried soba noodles

4 cups chicken stock or prepared broth

2 cups water

1⁄4 cup yellow miso

1 tsp. peeled and grated fresh ginger

1 boneless, skinless whole chicken breast, about
1⁄2 lb., cut into thin strips

2 cups packed baby spinach leaves

2 green onions, white and light green
portions, thinly sliced
Directions:
Bring a large saucepan of water to a boil over high heat. Add the noodles and cook until just tender, about 4 minutes. Drain and set aside.

In a large saucepan over medium-high heat, whisk together the stock, water, miso and ginger. Bring to a simmer, then reduce the heat to medium and simmer until the miso is completely dissolved, about 3 minutes.

Add the chicken strips and cook until the chicken is just opaque throughout, about 2 minutes. Add the spinach and cook until slightly softened but still bright green, about 1 minute. Add the green onions and cook for 1 minute more. Taste and adjust the seasonings.

Using tongs, divide the noodles evenly among warmed bowls and then ladle in the soup. Serve immediately. Serves 4 to 6.

Variation Tip: Turkey strips may be used in place of the chicken.