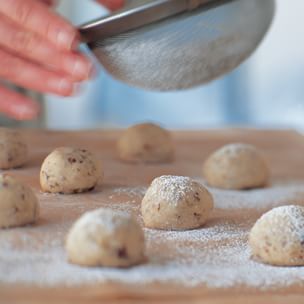 Butter Pecan Cookies
Slivered almonds or hazelnuts may be used in place of pecans in these nutty butter cookies. To remove the skins from whole hazelnuts, toast them in a fry pan over medium heat, stirring often, until they are fragrant and golden brown, about 10 minutes. Rub the warm nuts in a kitchen towel to loosen the skins (don't worry if tiny bits of skin are still attached), then chop.
Ingredients:
12 Tbs. (1 1/2 sticks) unsalted butter, at room temperature

1/3 cup confectioners' sugar, plus more for dusting

1 tsp. vanilla extract

1/4 tsp. salt

1 1/2 cups all-purpose flour

3/4 cup pecans, toasted and finely chopped
Directions:
Prepare the baking sheets
Position a rack in the middle of an oven and preheat to 325°F. Line 2 baking sheets with parchment paper.

Mix the dough
In a large bowl, using an electric mixer on medium speed, beat the butter and 1/3 cup confectioners' sugar until creamy. Add the vanilla, salt and flour and mix until blended. Add the pecans and mix until evenly distributed.

Bake the cookies
With floured hands, shape the dough into 3/4-inch balls and place on the prepared sheets, spacing them about 1 1/2 inches apart. Bake until the cookies are very light brown, 15 to 18 minutes. Let the cookies cool on the baking sheets on wire racks for 10 minutes. Slide the parchment with the cookies onto a work surface and dust the cookies with confectioners' sugar shaken through a sieve. Let cool completely. Makes about 36 cookies.

Adapted from Williams-Sonoma Food Made Fast Series, Baking, by Lou Seibert Pappas (Oxmoor House, 2006).