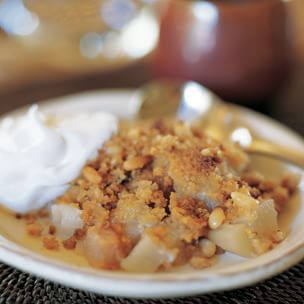 Apple-Pear Crisp
For the best results, choose firm apples, such as Granny Smith or Gala, and firm, ripe pears, such as Bosc or Bartlett. These varieties will soften but still hold their shape when the crisp is baked. The pine nuts in the topping contribute an extra touch of autumn.
Ingredients:
1 lb. apples, peeled

1 lb. pears, peeled

2 tsp. fresh lemon juice

3/4 cup all-purpose flour

2/3 cup firmly packed light brown sugar

1/8 tsp. salt

4 Tbs. (1/2 stick) cold unsalted butter, cut into 1/2-inch cubes

2 Tbs. pine nuts

Lightly whipped cream for serving
Directions:
Preheat an oven to 375°F. Butter an 8-inch square baking dish.

Halve and core each apple, then cut into 1-inch cubes. Repeat with the pears. Put all the fruit in the prepared baking dish. Drizzle with the lemon juice, stirring the fruit once or twice to mix well. Spread the fruit evenly in the dish.

In a bowl, stir together the flour, brown sugar and salt. Add the butter and, using a pastry blender or 2 knives, cut the butter into the flour mixture until the mixture is grainy and the butter pieces are about the size of small peas. Add the pine nuts and mix with a fork or your fingers. Spread the topping evenly over the fruit.

Bake the crisp until the top is golden and the fruit juices are bubbling around the edges, about 50 minutes. Transfer the baking dish to a wire rack and let cool for 10 to 15 minutes. Serve warm with a dollop of whipped cream. Serves 6 to 8.

Adapted from Williams-Sonoma Dinner Parties, by Georgeanne Brennan (Free Press, 2006).