Breville Smart Oven Pizza Stone, 13"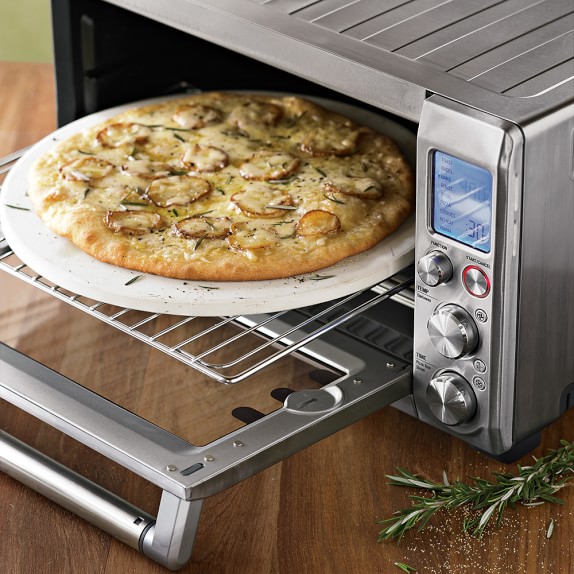 Summary
Designed to work perfectly with a Breville Countertop Convection Oven, this pizza stone's porous surface draws moisture away from the dough for crispier crusts. Its special construction also distributes heat evenly across the entire pizza to maintain an even baking temperature. To use, simply preheat the stone in your Breville Countertop Oven at 450° F for 15 minutes. The stone can also be used with a traditional full-size oven.
Model #BOV800PS13
13" diam.
Made in China.
Use & Care
Use
The stone will discolor with use. Discoloration will not affect performance.
Do not place cold stone in a hot oven.
Do not place hot stone on a cold surface or countertop.
Care
Allow stone to cool before cleaning.
To remove baked-on food, scrub stone with a stiff bristled brush under warm running water.
Do not soak in water, as this may cause stone to weaken.
Do not use detergent, soap or other cleaning solutions.
Allow stone to air dry.
Asparagus with Orange Hollandaise Sauce
To make the sauce, place the egg yolks and 2 Tbs. of the orange juice in a heatproof bowl or the top pan of a double boiler. Set the bowl or pan over but not touching hot or barely simmering water in a saucepan or the bottom pan of the double boiler. Whisk continuously until warm and just beginning to thicken, about 1 minute. Add the butter 1 slice at a time, whisking until fully absorbed before adding more. When all of the butter is absorbed, continue to whisk until thickened, 2 to 3 minutes. Do not overcook.

Remove the bowl or pan from the pan of hot water, and season the sauce with salt and pepper. If the sauce is too thick, stir in as much of the remaining 1 Tbs. orange juice as needed to thin to the desired consistency. You should have about 3/4 cup sauce. Remove the bottom pan from the heat and let the water cool slightly. Then set the bowl or pan with the sauce over the warm water and cover loosely with a paper towel to prevent a skin from forming.

Cut or break off the tough white ends from the asparagus spears. Trim all the spears to the same length. If the spears are large, use a vegetable peeler to peel away the tough skin, starting 2 inches below the tip.

Pour water into an asparagus steamer, add the 2 tsp. salt and bring to a boil over high heat. Place the spears, tips up, in the basket and steam just until tender, 2 to 3 minutes.

Remove the asparagus from the steamer and divide among 4 warmed plates, arranging the spears in a row. Spoon the warm hollandaise sauce in a wide stripe across the middle of the asparagus. Using a zester or fine-holed shredder, and holding the orange over each serving, shred a little zest from the orange peel directly over the hollandaise on each serving. Serve immediately. Get the full asparagus with orange hollandaise sauce recipe.
Pistachio Ice Cream
Preheat an oven to 350°F.

Arrange the pistachios in a single layer on a baking sheet and bake, shaking the pan occasionally, until the nuts are lightly golden and toasted, 5 to 7 minutes. Let cool to room temperature.

In a mini-food processor or standard-size food processor, combine 1/2 cup of the pistachios with the sugar and process until finely chopped and well blended. Reserve the remaining 1/2 cup pistachios.

In a saucepan, combine the milk, cream and the pistachio-sugar mixture and stir to blend. Set the pan over medium-low heat and warm the mixture, stirring occasionally, until the sugar is dissolved and steam begins to rise from the surface, 3 to 4 minutes. Remove from the heat and let the mixture steep for 10 to 15 minutes.

In a bowl, whisk together the egg yolks and salt until blended. Form a kitchen towel into a ring and place the bowl on top to prevent it from moving. Whisk in 1/2 cup of the pistachio-cream until smooth and blended, then pour the egg mixture back into the pan. Cook over medium-low heat, stirring slowly and continuously with a wooden spoon or spatula, until the custard thickens and a finger drawn across the back of the spoon leaves a path, 8 to 10 minutes; do not allow the custard to boil.

Pour the custard through a fine-mesh sieve set over a clean bowl; discard the pistachios. Nestle the bowl in a larger one filled halfway with ice and water and cool the custard to room temperature, stirring occasionally. Refrigerate until chilled, at least 1 hour.

Stir the almond extract into the custard, transfer to an ice cream maker and freeze according to the manufacturer's instructions. At the end of the freezing stage, add the remaining 1/2 cup pistachios and continue processing just until they are blended into the ice cream. Transfer the ice cream to a chilled container, cover and freeze until firm, at least 3 hours or up to 3 days, before serving. Get the full pistachio ice cream recipe.
Shipping
Shipping Information
UPS can deliver most in-stock items within 4-5 business days. UPS is unable to deliver to P.O. boxes.

Shipping Rates
The shipping rate varies depending on your order total and shipping destination. View Shipping Options and Charges.
Next Day Delivery
For an additional charge of $17.50 per address, we can expedite delivery to most destinations. This service is not available for some oversize items, items shipped directly from the supplier (including perishable and custom-manufactured items), out-of-stock items and items to be shipped outside the contiguous 48 states.
Orders received by 9:00 p.m., Eastern time, Monday through Thursday will arrive the next business day; orders placed Friday through Sunday will arrive on the following Tuesday.
Return Policy
At Williams Sonoma, we take great pride in the quality and craftsmanship of our products. Attention to design, materials, safety and construction are our priority. Upon receipt, please inspect your purchase and notify us of any damage; we will arrange for a prompt replacement.
If within 30 days, you are dissatisfied for any reason, you may return your purchase for a refund of the merchandise value. An original receipt or gift receipt is required for all returns and exchanges. Returns with a gift receipt will be refunded in the form of a Merchandise Credit for the amount indicated on the gift receipt. Returns with original receipt will be refunded in the original form of payment, cash and check refunds over $100 will be issued as a company check (may take 14 business days from time of request).
For all cutlery returns (knife sets, single knives, cutting boards, knife sharpeners, and knife storage) please contact us at 888.922.4108 to initiate the return.
We cannot accept returns on monogrammed, personalized, special-order items, custom upholstery, food, items shipped direct from the vendor, or on items damaged through normal wear and tear. Final sale items ending in .97 or .99 cannot be returned.
Made to Order and Final Sale Furniture items are non-returnable, and cannot be cancelled once the order is placed.
For returns of items purchased from your Williams Sonoma Gift Registry, we will gladly provide a refund or exchange for the merchandise within 90 days of your event or within 90 days of purchase, whichever date is later. View Full Returns Policy.
Breville Smart Oven Pizza Stone, 13"
Item
Price
Delivery Surcharge
Breville Smart Oven Pizza Stone, 13"
Sugg. Price

$

50

Our Price

$

29.95

$

0
Pricing may vary at time of purchase.
Product subject to availability. If you have any questions regarding this item(s), please call
877.812.6235
.