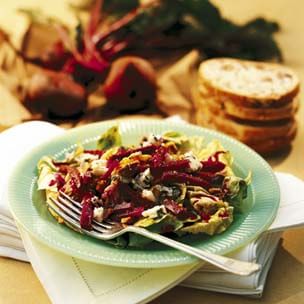 Beet and Walnut Salad with Meursault Vinaigrette
Servings:
4
Serves 4 to 6.
Marinating the beets in the vinaigrette infuses them with flavor and intensifies the color of the dressing. The combination of colors and tastes makes a refreshing starter course. When you want only the mellow flavor of garlic in a vinaigrette, follow the method used here: Lightly crush a clove, spear it with a toothpick, and place in the vinaigrette for at least 30 minutes or for as long as 12 hours.
Ingredients:
3 beets, about 3/4 lb. total

1/4 cup extra-virgin olive oil

3 Tbs. Meursault or red wine vinegar

1/2 tsp. dry mustard

Salt and freshly ground pepper, to taste

1 garlic clove, lightly crushed and stuck onto the
&nbsp end of a toothpick

1/2 cup walnuts

2 heads Bibb or butter lettuce, torn into bite-
&nbsp size pieces
2 to 3 oz. Roquefort or other blue cheese,
&nbsp crumbled (optional)
Directions:
Trim the stems from the beets, leaving about 1/2 inch intact; do not peel. Place the beets in a small saucepan, add water to cover and bring to a boil over high heat. Reduce the heat to low, cover and simmer until the beets are tender, about 20 minutes. Drain and, when the beets are cool enough to handle, cut off the stem and root ends and peel off the skins. Cut the beets into julienne strips and place in a bowl.

Meanwhile, in a small bowl, whisk together the oil, vinegar and mustard. Season with salt and pepper and add the garlic. Let stand for 30 minutes. (The dressing may be made to this point up to 12 hours in advance and refrigerated. Return to room temperature before continuing.)

Preheat an oven to 350°F. Spread the walnuts on a baking sheet and toast until lightly browned and fragrant, 5 to 7 minutes. Remove from the oven and let cool.

Remove the garlic from the dressing and discard the garlic. Pour the dressing over the beets and let stand for at least 1 hour at room temperature or for up to 2 days in the refrigerator. (If beets are refrigerated, bring to room temperature before serving.)

Just before serving, place the lettuce in a bowl. Using a slotted spoon, remove the beets from the dressing and place in another bowl. Drizzle the dressing over the lettuce and toss well to coat. Divide among individual plates. Top with the beets and garnish with the walnuts and cheese.
Serves 4 to 6.