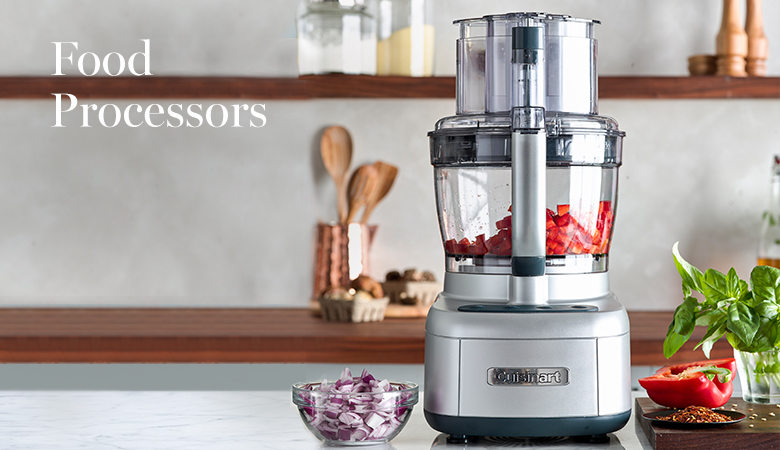 Full-Size Food Processors
Mini Food Processors
Food Processor Attachments, Accessories
Food Processors
Dicing, chopping and mincing take time, especially when cooking for a large gathering. That is when a food processor comes in handy. With multiple settings, they can cut preparation time in half. At Williams-Sonoma, we offer a wide range of food processors that can help reduce the time spent preparing meals.
The Cuisinart Elite 2.0 is a full-size food processor with a 16-cup bowl. It offers multiple functions including chop, puree, shred and slice, and features an LED-backlit touchpad. The Breville Sous Chef features a shredding disc that operates in forward and reverse to provide fine and coarse grating and a momentary pulse button.
For smaller jobs, and to keep the need for storage space at a minimum, mini food processors like the four-cup Cuisinart Elite Mini Prep has an auto-reversing blade and two easy chop and grind settings. Use it to quickly prep vegetables and keep it in the corner of the counter.
Some food processors also offer special attachments that allow them to do even more. The Magimix food processor has a juice extractor and smoothie attachment that processes juice from fresh fruits for jams, smoothies, jellies and soups. It also offers a selection of special slicing discs that can julienne and even ripple cut meats and vegetables. Spend less time slicing and dicing with a versatile food processor.