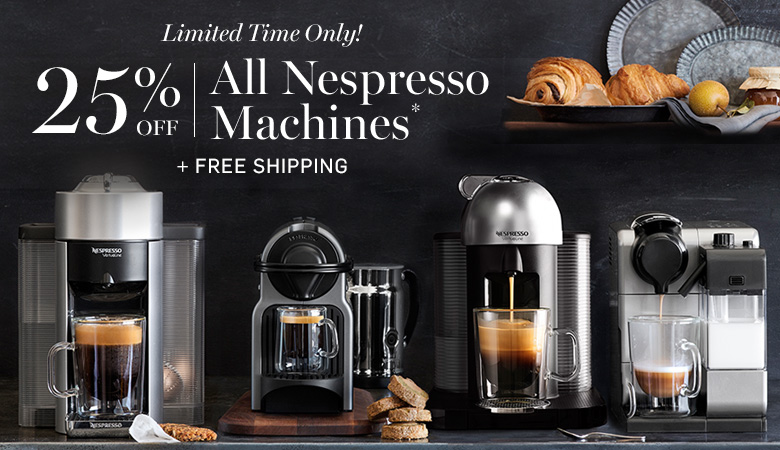 VertuoLine
Evoluo
OriginalLine
Accessories
Nespresso
Nespresso embodies elegance, simplicity and consistently perfect coffee. We offer a range of Nespresso coffee and espresso makers that deliver piping-hot American coffees and Italian espressos right to your mug. The Williams-Sonoma range embraces the Nespresso Original, Evoluo and Virtuo lines of the machines, and you can find plenty of delightful accessories, including Aeroccino milk frothers, capsule carousels and drawers, to supplement your morning brew.

The Nespresso Evoluo has a one-touch button system based upon its advanced Centrifusion technology. The fully automated and computerized scanning system reads the capsule barcode to determine the coffee type and provide gentle, precise brewing optimized for the blend. A 20-second heat time enables the deluxe and standard versions to immediately deliver professional results. The Virtuo line features the same patented scanning technology as the Evoluo; its quiet centrifugal processes gently induce precise brewing of coffee or espresso. When combined with the Aeroccino milk frother, steamed or frothed hot milk can be mixed into brews with two whisk attachments for the perfect foam.

The original line features models from KitchenAid and Nespresso. KitchenAid's design aesthetic and features an LED indicator that enables simple customizable espresso volume and strength, and an energy-save mode gradually reduces power when not in use, ensuring that your machine is ready to brew up a smooth cup of your favorite blend at any time of the day.