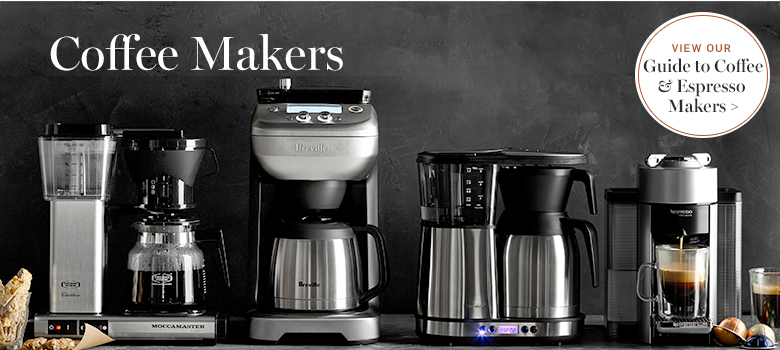 Coffee Makers, French Press, and Coffee Machine Accessories
Coffee makers and French presses enable convenient, consistent brewing of handcrafted full-bodied coffee. Precise infusion temperature control, even water dispersing technology and accurate timing enable flavor extraction from coffee grounds. Williams-Sonoma has a complete range of the highest quality, professional coffee makers designed for simple operation, easy cleaning and perfect results. Accessories including: coffee filters, milk frothers, capsule carousels, thermal carafes, and decalcifying and cleaning tablets. Manual or electric coffee grinders, precise scales and water filters complete the comprehensive collection.

Deluxe automatic coffee makers offer ultimate versatility by utilizing two carafes: one for heating the water and a second for brewing the coffee. Water is maintained at a constant temperature throughout the brewing process. A kettle mode enables coffee makers to be used to brew tea and enable the correct temperature while retaining perfect taste. Basic automatic coffee makers enable pour-over coffee purists to easily brew precise results due to consistent wetting of the coffee bed by the integrated rainhead. Pulsing water baths ensure brews are maintained at optimum temperature. Single serve coffee makers enable simple, rapid brewing of American coffee and Italian espresso through a wide variety of Nespresso capsules. They are perfect for cappuccinos, lattes and macchiatos due to integrated steamers and milk frothers activated by a single button. Specialty coffee makers are available for the connoisseur or the traveler. The manual press uses gentle air pressure to extract coffee directly from grounds, filtering and delivering the brew directly to the cup. French presses with double-walled construction enable traditionalists to steep and maintain the temperature of rich, pure flavored brews. The integrated filter and plunger construction makes for easy cleaning and use.