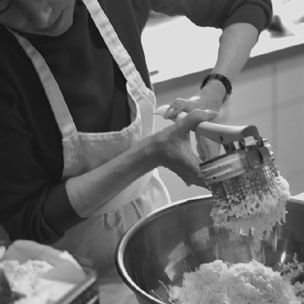 Supper clubs are the modern interpretation of the potluck dinner party. Similar in style to their bring-a-dish counterpart in which guests contribute prepared dishes for the dinner, supper clubs differ in one important—and fun—aspect: Guests gather in the host's kitchen to prepare the food and then enjoy the meal together.

It's easy to host a supper club party. All you need is an appealing menu—it should include recipes that are conducive to group preparation along with a few make-ahead dishes to round out the meal. And, because everybody shares in the cooking, anyone can play host, whether you're a novice or an accomplished cook.

To get you started, we've assembled tips on menu planning, organization and timing. We've also created an inviting pizza menu that's just right for preparing with friends on a chilly winter evening (for the menu, click on "Seasonal Entertaining").