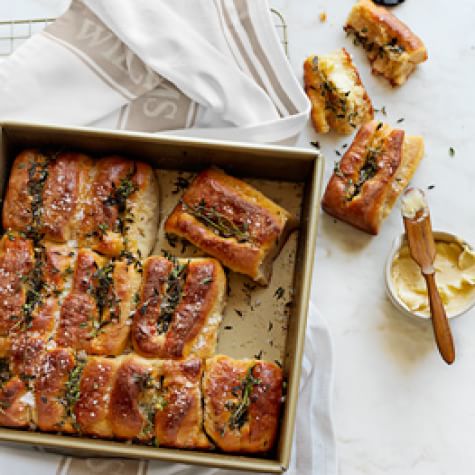 Parker House Rolls
Parker House Rolls
is rated out of
5
by
1
.
Invented by a 19th-century baker at Boston's famous Parker House Hotel, these fluffy rolls are American classics and they're easy to bake at home using our premium mix.
Ingredients:
1 packet Parker House roll mix (included with mix)

1 yeast packet (included with mix)

8 Tbs. (1 stick) (4 oz./120 g) unsalted butter

1 cup (8 fl. oz./250 ml) warm water (110° to 120°F/43° to 49°C)

1 egg

All-purpose flour as needed

1/2 tsp. large-flake sea salt

Fresh thyme sprigs for garnish

Directions:
Have all the ingredients (except the warm water) at room temperature.

In the bowl of an electric mixer fitted with the flat beater, combine 1 cup (160 g) of the mix, the yeast and 4 Tbs. (1/2 stick/60 g) of the butter. Set the mixer on low speed and slowly add the warm water and egg, beating until combined. Increase the speed to medium and beat for 2 minutes, stopping the mixer to scrape down the sides of the bowl as needed. Add the remaining mix, reduce the speed to low and beat until just combined, about 1 minute.

Turn the dough out onto a lightly floured surface and knead until smooth and elastic, about 10 minutes, working in more flour as needed. Shape the dough into a ball and place in a large oiled bowl, turning the dough over to coat all sides. Cover with plastic wrap and let the dough rise in a warm place until doubled in size, 1 to 1 1/2 hours.

Punch the dough down and turn it out onto a lightly floured surface. Divide into 2 equal pieces and knead each briefly until smooth. Place the dough balls on a lightly floured surface and cover each with an overturned bowl. Let the dough rest for 20 minutes.

Preheat an oven to 375°F (190°C).

In a small saucepan over medium heat, melt the remaining 4 Tbs. (1/2 stick/60 g) butter. Generously brush the bottom and sides of a 9-inch (23-cm) square baking pan with some of the butter. Roll out each piece of dough into a 12-by-4-inch (30-by-10-cm) rectangle, with a long side facing you. Generously brush each rectangle with butter and fold the top down, leaving 1/2 inch (12 mm) uncovered. Cut each rectangle into 6 pieces. Arrange the rolls in the prepared pan so there are 3 rows of 4. Let rise in a warm place for 30 minutes. Brush the tops of the rolls with the remaining melted butter and sprinkle evenly with the sea salt.

Bake until the rolls are golden on top, 18 to 22 minutes. Transfer the pan to a wire rack and let cool for 10 to 15 minutes; as the rolls cool, insert fresh thyme sprigs into the folds. Remove the rolls from the pan and serve warm. Makes 12 rolls.

Williams-Sonoma Kitchen
Rated

5

out of

5
by
JJDawg
from
Best rolls ever
I made these for a family thanksgiving last Fall. The whole pan was empty in 5 minutes. Everyone loved them. I am making them again for Easter. These are well worth the time to give your family and friends a very special treat.
Date published: 2015-04-02