Breville Die-Cast 4-Slice Stainless Steel Smart Toaster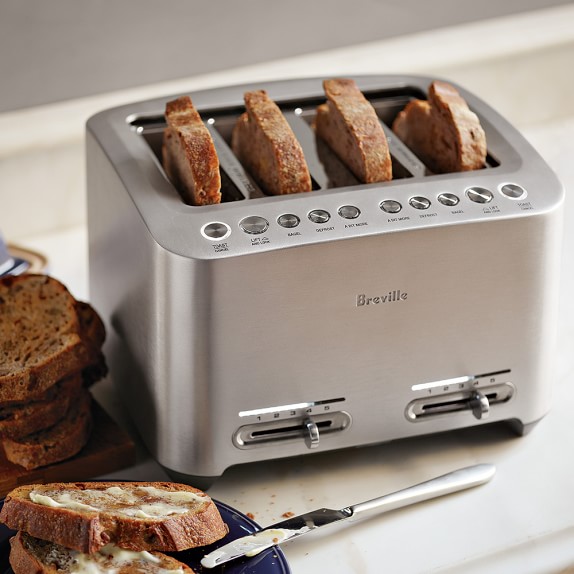 Summary
Constructed of die-cast aluminum, Breville's high-tech electronic toaster anticipates your every preference, supplementing five precise toasting levels with a special "a bit more" function that provides a touch of extra browning at the end of the cycle.
Select from five precise browning settings.
Five push-button settings: Toast/Cancel, Lift & Look, Bagel, Defrost and A Bit More.
Choose the "a bit more" setting once initial toasting is complete, and the bread will automatically lower to continue toasting.
Extra-wide slots accommodate bread, bagels and pastries.
Lift-and-look feature allows midcycle adjustments.
Audible signal indicates when toasting is complete.
Includes a slide-out crumb tray for easy cleanup.
4-slice model has independent controls for each pair of slots.
Brushed-stainless-steel finish.
Dimensions & More Info
Model #BTA840XL
Die-cast stainless-steel construction.
4-slice: 11 1/2" x 10 1/4" x 7 1/2" high; 13 lb.; 1800W.
This product is intended for use in the United States and Canada and is built to United States electrical standards.
Made in China.
Use & Care
Use
Do not operate toaster without crumb tray in place.
Care
Wipe housing with damp cloth and dry thoroughly.
Clean out crumb tray regularly.
Grandmothers Olive Oil Cake
To make the caramel sauce, in a heavy saucepan over medium-high heat, combine the sugar and corn syrup. Cook slowly, stirring constantly, until the sugar is dissolved and the mixture comes to a boil. Boil the syrup, without stirring, until a candy thermometer registers 300°F.

Remove the pan from the heat and whisk in a few pieces of the butter. Return the pan to medium-high heat and whisk in the remaining butter pieces. The mixture will bubble up. Slowly add the warm cream, never allowing the mixture to stop boiling. Continue to boil, stirring constantly, until the thermometer registers 238°F (soft-ball stage), 10 to 15 minutes.

Remove the pan from the heat and let cool for 5 minutes, then stir in the vanilla. Pour the caramel sauce into a heatproof bowl and let cool to room temperature. The sauce can be covered and refrigerated for up to 3 weeks. To soften it, warm it in a double boiler just before serving.

To make the cake, preheat an oven to 350°F. Line the bottom of a 9-inch springform pan with parchment paper, brush with olive oil and sprinkle with the ground hazelnuts.

In a small bowl, stir together the chopped hazelnuts and the 2 Tbs. sugar. Set aside.

In a small bowl, whisk together the flour, baking powder and salt. In another small bowl, combine the milk and vinegar. Set aside.

In the bowl of an electric mixer fitted with the whisk attachment, combine the egg and the 1/2 cup sugar and beat on medium-high speed until light and fluffy, 3 to 5 minutes. Add the 1/4 cup olive oil and the lemon zest and beat for 1 to 2 minutes. Add the milk mixture and beat until incorporated, 1 to 2 minutes. Add the flour mixture and beat just until incorporated, 1 to 2 minutes.

Pour the batter into the prepared pan and sprinkle the hazelnut-sugar mixture on top. Bake until the cake is brown around the edges and a toothpick inserted into the center comes out clean, 30 to 35 minutes.

Transfer the pan to a wire rack and let cool completely, about 1 hour. Remove the pan sides. Using a serrated knife, cut the cake into slices. Serve each slice with a scoop of vanilla ice cream and a drizzle of the caramel sauce. Serves 8.

Judy Zeidler, Author, The Gourmet Jewish Cook (William Morrow and Co., Inc., 1999). Get the full grandmother's olive oil cake (torte della nonna) recipe
Shipping
Shipping Information
UPS can deliver most in-stock items within 4-5 business days. UPS is unable to deliver to P.O. boxes.

Shipping Rates
The shipping rate varies depending on your order total and shipping destination. View Shipping Options and Charges.
Next Day Delivery
For an additional charge of $17.50 per address, we can expedite delivery to most destinations. This service is not available for some oversize items, items shipped directly from the supplier (including perishable and custom-manufactured items), out-of-stock items and items to be shipped outside the contiguous 48 states.
Orders received by 9:00 p.m., Eastern time, Monday through Thursday will arrive the next business day; orders placed Friday through Sunday will arrive on the following Tuesday.
Return Policy
At Williams Sonoma, we take great pride in the quality and craftsmanship of our products. Attention to design, materials, safety and construction are our priority. Upon receipt, please inspect your purchase and notify us of any damage; we will arrange for a prompt replacement.
If within 30 days, you are dissatisfied for any reason, you may return your purchase for a refund of the merchandise value. An original receipt or gift receipt is required for all returns and exchanges. Returns with a gift receipt will be refunded in the form of a Merchandise Credit for the amount indicated on the gift receipt. Returns with original receipt will be refunded in the original form of payment, cash and check refunds over $100 will be issued as a company check (may take 14 business days from time of request).
For all cutlery returns (knife sets, single knives, cutting boards, knife sharpeners, and knife storage) please contact us at 888.922.4108 to initiate the return.
We cannot accept returns on monogrammed, personalized, special-order items, custom upholstery, food, items shipped direct from the vendor, or on items damaged through normal wear and tear. Final sale items ending in .97 or .99 cannot be returned.
Made to Order and Final Sale Furniture items are non-returnable, and cannot be cancelled once the order is placed.
For returns of items purchased from your Williams Sonoma Gift Registry, we will gladly provide a refund or exchange for the merchandise within 90 days of your event or within 90 days of purchase, whichever date is later. View Full Returns Policy.
Breville Die-Cast 4-Slice Stainless Steel Smart Toaster
Item
Price
Delivery Surcharge
Breville Die-Cast Toaster, 4-Slice, Model # BTA840XL
Sugg. Price

$

270

Our Price

$

179.95

$

0
Pricing may vary at time of purchase.
Product subject to availability. If you have any questions regarding this item(s), please call
877.812.6235
.