Breville Die-Cast 2-Slice Smart Toaster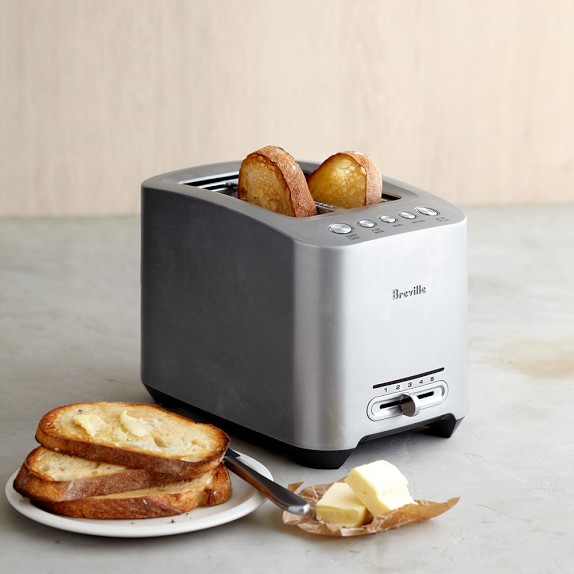 Summary
Breville's high-tech electronic toaster anticipates your every preference, supplementing five precise toasting levels with a special "a bit more" function that provides a touch of extra browning at the end of the cycle.
Select from five precise browning settings.
Five push-button settings: Toast/Cancel, Lift & Look, Bagel, Defrost and A Bit More.
Choose the "a bit more" setting once initial toasting is complete, and the bread will automatically lower to continue toasting.
Extra-wide slots accommodate bread, bagels and pastries.
Lift-and-look feature allows midcycle adjustments.
Audible signal indicates when toasting is complete.
Includes a slide-out crumb tray for easy cleanup.
Sturdy die-cast aluminum construction with brushed-steel finish.
Dimensions & More Info
Model #BTA840XL
Die-cast stainless-steel construction.
6 3/4" x 10 1/4" x 7 1/2" high; 7 lb. 12 oz.; 900W.
This product is intended for use in the United States and Canada and is built to United States electrical standards.
Made in China.
Use & Care
Use
Do not operate toaster without crumb tray in place.
Care
Wipe housing with damp cloth and dry thoroughly.
Clean out crumb tray regularly.
Maple Vanilla Peach Jam
To prepare the calcium water, in a small, clear jar with a lid, combine the calcium powder and the 1/2 cup water. Shake well. You will need 4 tsp. calcium water for this recipe; store the extra in the refrigerator for future use.

Wash 4 or 5 half-pint jars, lids and bands. Place the jars in a canner, fill the canner two-thirds full with water and bring to a rolling boil. Boil the jars for 10 minutes to sterilize them. (Add 1 extra minute of sterilizing time for every 1,000 feet above sea level.) Reduce the heat and allow the jars to remain in the hot canner water until ready to use. Place the lids in water in a small saucepan, heat to a low simmer and hold until ready to use.

Peel and remove the pits from the peaches, and then mash the peaches in a large bowl. (See "How to Skin a Peach" tip below.)

Measure 4 cups of the mashed peaches (save any extra for another use) and pour the measured amount into a saucepan. Using a paring knife, slice the vanilla bean in half lengthwise and scrape out the seeds. Add the vanilla seeds and the bean pod to the peaches, along with the lemon juice and the 4 tsp. calcium water. Mix well.

In a separate bowl, combine the maple syrup and pectin. Mix thoroughly and set aside.

Bring the peach mixture to a full boil over high heat. Slowly add the pectin-maple syrup mixture, stirring constantly. Continue to stir vigorously for 1 to 2 minutes to dissolve the pectin while the jam returns to a boil. Once the jam returns to a full boil, remove the pan from the heat. Using tongs, carefully remove the vanilla bean pod and discard.

To can the jam, remove the jars from the canner and ladle the jam into the hot jars, leaving 1/4 inch of headspace. Remove any trapped air bubbles, wipe the rims with a damp cloth, put on the lids and screw bands, and tighten to fingertip tight. Lower the filled jars into the canner, ensuring the jars are not touching each other and are covered with at least 1 to 2 inches of water. Place the lid on the canner, return to a rolling boil and process for 10 minutes. (Add 1 extra minute of processing time for every 1,000 feet above sea level.) Turn off the heat and allow the canner to sit untouched for 5 minutes, then remove the jars and allow to cool undisturbed for 12 to 24 hours. Confirm that the jars have sealed, then store properly. Makes 4 to 5 half-pint (8-oz.) jars.

Tips

Perfect Peaches: This recipe requires mashed peaches, so be sure that your peaches are fully ripe and soft enough to mash. If they're not, however, simply place the peeled, pitted and chopped peaches in a saucepan with 1/2 cup water. Simmer for 5 minutes to soften them and then mash. (There is no need to drain the water after cooking; simply mash the peach mixture as is.)

How to Skin a Peach: If you are dealing with a small quantity of fruit, slice off the peach (or nectarine) skins with a paring knife (pitting and quartering the fruit first). However, if you're doubling the recipe and are working with a lot of fruit, you may want to blanch them to remove the skins instead. Simply drop the peaches or nectarines one at a time into boiling water for 30 to 60 seconds, then remove and immediately immerse in cold water. You should then be able to slip the skins right off.

Adapted from Preserving with Pomona's Pectin, by Allison Carroll Duffy (Fair Winds Press, 2013).
Shipping
Shipping Information
UPS can deliver most in-stock items within 4-5 business days. UPS is unable to deliver to P.O. boxes.

Shipping Rates
The shipping rate varies depending on your order total and shipping destination. View Shipping Options and Charges.
Next Day Delivery
For an additional charge of $17.50 per address, we can expedite delivery to most destinations. This service is not available for some oversize items, items shipped directly from the supplier (including perishable and custom-manufactured items), out-of-stock items and items to be shipped outside the contiguous 48 states.
Orders received by 9:00 p.m., Eastern time, Monday through Thursday will arrive the next business day; orders placed Friday through Sunday will arrive on the following Tuesday.
Return Policy
At Williams Sonoma, we take great pride in the quality and craftsmanship of our products. Attention to design, materials, safety and construction are our priority. Upon receipt, please inspect your purchase and notify us of any damage; we will arrange for a prompt replacement.
If within 30 days, you are dissatisfied for any reason, you may return your purchase for a refund of the merchandise value. An original receipt or gift receipt is required for all returns and exchanges. Returns with a gift receipt will be refunded in the form of a Merchandise Credit for the amount indicated on the gift receipt. Returns with original receipt will be refunded in the original form of payment, cash and check refunds over $100 will be issued as a company check (may take 14 business days from time of request).
For all cutlery returns (knife sets, single knives, cutting boards, knife sharpeners, and knife storage) please contact us at 888.922.4108 to initiate the return.
We cannot accept returns on monogrammed, personalized, special-order items, custom upholstery, food, items shipped direct from the vendor, or on items damaged through normal wear and tear. Final sale items ending in .97 or .99 cannot be returned.
Made to Order and Final Sale Furniture items are non-returnable, and cannot be cancelled once the order is placed.
For returns of items purchased from your Williams Sonoma Gift Registry, we will gladly provide a refund or exchange for the merchandise within 90 days of your event or within 90 days of purchase, whichever date is later. View Full Returns Policy.
Breville Die-Cast 2-Slice Smart Toaster
Item
Price
Delivery Surcharge
Breville Die-Cast Stainless-Steel Toaster, 2-Slice, Model # BTA820XL
Sugg. Price

$

200

Our Price

$

129.95

$

0
Pricing may vary at time of purchase.
Product subject to availability. If you have any questions regarding this item(s), please call
877.812.6235
.