Hey, kids! We can show you how fun and easy cooking can be: Learn to make delicious recipes,
from main courses to desserts and snacks, with plenty of tasting along the way.
For specific times and more details, find your local store>
• Available at all stores; class times vary by store location.
• Class size is limited – call your local store to register.

Transform a few simple ingredients into a classic, comforting meal. We have the tips, techniques and tools you need to make pasta paired with an authentic sauce. Suitable for ages 9-13.

Share Our Strength is a national nonprofit organization fighting every day to end childhood hunger in America. Join us for this special cookie-decorating event. ($5 donation) - all proceeds will benefit Share Our Strength! All ages are welcome to help us support this great cause.
Everyone knows the most important meal of the day is breakfast. This class will teach you how to make some great grab-and-go breakfasts the whole family will love.  Suitable for ages 9–13.


Want to help prepare dinner? Join us and learn how to make delicious noodle dishes the whole family will love. We'll create long curly vegetable noodles by spiralizing as well as make a baked noodle dish sure to satisfy. Suitable for ages 9–13.

How do you like your mac & cheese? Loaded with cheese? What about crumbles of bacon? Or maybe you even like a little something green! Join us and we'll create mac & cheese many, many ways! Suitable for ages 9–13.

We all love to order waffles when we're having breakfast out, but now you can learn how to make delicious waffles in your own home, whether for breakfast, dinner or dessert! Suitable for ages 9–13.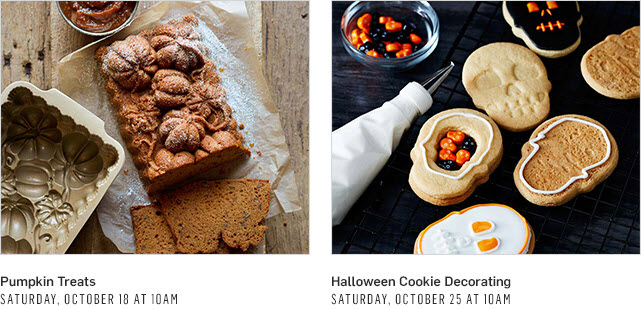 There's more to pumpkin than just pie – join us and we'll teach you how to make delicious pumpkin treats you can share with your family and even take to your Halloween parties. Suitable for ages 5-13.

It's almost time for trick or treating so let's make some delicious Halloween treats! We will be decorating delicious Halloween cookies with spooky and fun designs. Suitable for ages 5-13 – kids are welcome to preview their costume!