Connect with leading chefs and cookbook authors, get signed copies of the latest books and learn new ideas for cooking and entertaining.
---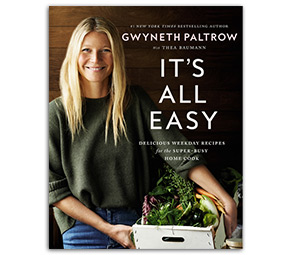 Meet Academy Award winning actress and bestselling cookbook author Gwyneth Paltrow at Williams-Sonoma Columbus Circle

Gwyneth Paltrow's latest cookbook IT'S ALL EASY: Delicious Weekday Recipes for the Super-Busy Home Cook shares more than 125 of her favorite recipes that can be made in the time it would take to order takeout. All the dishes are incredibly tasty, with little or no sugar, fat, or gluten. From easy breakfasts to lazy suppers, this book has something for everybody.


Williams-Sonoma Columbus Circle

Wednesday, April 13, 2016 from 5:30 PM to 7:00 PM (EDT)
10 Columbus Circle, Ste 114
New York, NY 10019
(212) 581-1146
This is a ticketed event.
Secure a ticket by visiting Eventbrite or contacting the hosting store and purchasing a ticket.
Proof of purchase required. Returns are prohibited.